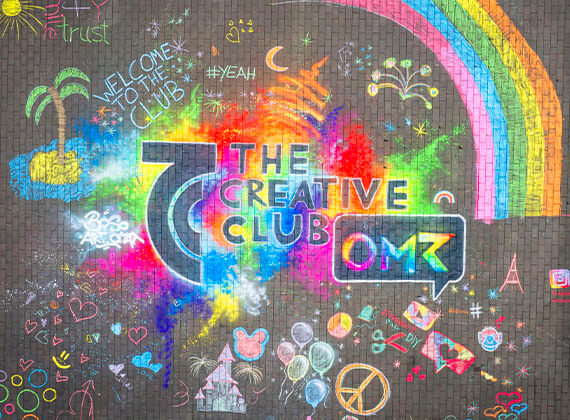 With over 700 pieces of chalk, two artists from the Street Art School Hamburg and a thousand creative ideas, a huge, colourful chalk artwork was created today outside the venue of the Hamburg OMR Festival. The digital company The Creative Club (TCC), the umbrella brand of creative platforms stoffe.de and makerist.com, thus shows: everyone can be creative. And when a community pools its creativity, something great will emerge. The Creative Club is taking its own vision, "empowering people to bring creative ideas to life", to the streets in the truest meaning of the word.

The chalk artwork was created by festival visitors, passers-by, families and children. They let their creativity flow and made Hamburg's streets even more colourful. A nice counterbalance to the fast, digital world we find ourselves in and a symbol for the power of creativity.

Empowering people to bring creative ideas to life.

#becreative #TheCreativeClub #TheCreativeOMR

About The Creative Club
The Creative ClubThe Creative Club is Europe's leading digital company on the Do-It-Yourself market. Besides the German creative platforms stoffe.de and makerist.com, the company engages in eleven other European countries and exports to more than 50 countries all over the globe. The range includes more than 30 000 physical DIY products and over 70 000 digital patterns and e-books. The Creative Club employs about 337 people from 35 countries at their sites in Hamburg and Berlin.

Press Contact
The Creative Club
Lisa Ulsamer
Tel.: +49 160 187 2396
E-Mail: presse@thecreativeclub.com